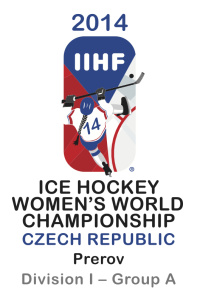 Basic information
Tournament name: IIHF Ice Hockey Women's World Championship Divison I, Group A, 2014
Host town: Přerov
Date: 6.4. – 12.4.2014
Tournament Format
The tournament consists of six national teams (Czech Republic, Slovakia, France, Norway, Austria, Denmark). Over the course of seven days, each team will play five games -- one against each other team. If a game is decided in regulation time, the winner will receive 3 points. If it is decided in overtime or a penalty shootout, the winner will receive 2 points and the loser 1 point. The team with the most points at the end of the tournament will be the winner. If two teams are tied, the winner will be the team that won their head-to-head game.
The tournament winner earns the right to play against team Japan (eighth-placed team in the Olympic tournament in Sochi 2014) a best-of-three series to qualify for the next Ice Hockey Women's World Championship, which will be held in 2015 in Sweden. The last-place team will be relegated to Division 1, Group B.
Tournament info
Short news
Best players of WWC
12.04.2014
- The Directorate of the 2014 IIHF Women's World Championship has determined the best players of the whole tournament. As the best goalie was named Klara Peslarova from the Czech Republic, as the best defender was awarded Silje Holos from Norway. Her teammate, Andrea Dalen, was named as the best forward.
U-15 game today!
11.04.2014
- The Women's World Championship has a day off, but Meo Aréna in Přerov will still be busy An international exhibition game in the women's U15 category will be played between the
Czech Republic
and
Hungary
. The game starts at 18:15.
Official programs!
09.04.2014
- During the game between the Czech Republic and Norway, a kiosk with official programs will again be on display. You can buy one and get some very interesting tournament information.
New website launched
23.01.2014
- The official website of the IIHF Women´s World Chapmionship Dvision I, Group A has just been launched. The Tournament will take place in Prerov´s ice hockey arena between the 6th – 12th of April, 2014.
Tournament schedule
23.01.2014
- The games schedule was published on the official website of the upcoming Women´s World Championship Division 1, Group A.
Facebook
WCH partners