Norway opens with big 6-3 win over Slovakia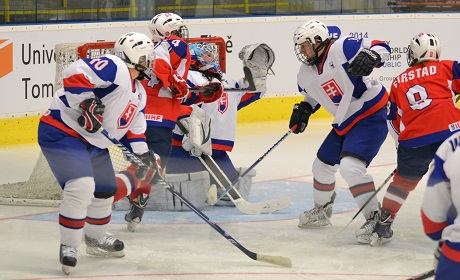 Norway announced their presence in this Division I World Championship by scoring four straight goals against Slovakia, then finishing with a 6-3 opening-day. They were led by 2 goals and 1 assist by Ingvild Farstad, 2 goals by Andrea Dalén and 2-point efforts from Silje Holos, Mathea Fisher and Madelen Haug-Hansen.

Norway
6:3

Slovakia
Periods: 2:0, 2:1, 2:2
Norway: Nilsen (Due-Sorensen) – Holos, Tautra, Gunter, Morset, Aakre, Oiseth – Farstad, Dalen, Fischer – Sletbak, Henriksen, Haug-Hansen – Carlsson, Lovdal, Fjellvang – Wais, Bakkene, Scott.
Slovakia: Budajova – Balasova, Lucova, Turcsanyiova, Lalikova, Zitnanska, Ihnatova, Rakova, Klimasova – Srokova, Gapova, Kezmarska – Muchova, Velickova, Mikeskova – Herichova, Jurcova, Pravlikova – Mihalikova, Krajnakova, Miskova.
Goals and assists: 6. Haug-Hansen (Morset), 15. Farstad (Holos), 21. Dalen (Holos, Farstad), 25. Farstad (Fischer, Gunther), 54. Sletbak (Henriksen, Haug-Hansen), 59. Dalen (Fischer) – 30. Mikeskova (Velickova), 50. Srokova (Gapová, Kezmarska), 58. Ihnatová
Shots on goal: 46:28 (23:6, 11:10, 12:12).
Penalties: 8:6. PP goals: 2:2. SH goals: 0:0.
Referees: Ariano-Lortie (CAN) – Inoue (JPN), Visala (FIN).. Attendance: 216.
Photogallery
Game report
After a disappointing fifth-place finish on home ice in last year´s Division I-A Women´s World Championship, Norway was anxious to play better this year, and they are off to an excellent start. Slovakia, meanwhile, might have entered this tournament with the goal of being promoted to the top division, but those hopes have now been dealt a serious blow.
Last year in Stavanger, Slovakia defeated Norway 4-0, but this time it was the Norwegians who scored twice in the first period and then twice more in the first five minutes of the second period to stun the sleepy Slovakian side. The Slovaks played better after that, but the hole was too deep to climb out of.
Norway opened the scoring on the power play at 5:22. Ingrid Morcet pounced on a terrible Slovakian clearing attempt and fed Madelen Haug-Hansen in front, and she one-timed it in before goaltender Jana Budajova could react.
Budajova was under a lot of pressure in the first period, as her team was outshot 23-6, and she did all she could to keep them in it. With the teams playing four-on-four in the 14th minute, she robbed Henriette Sletback on a clear-cut breakaway, but the Norwegians kept up the pressure and made it 2-0 just shy of the 15-minute mark. It was Ingvalid Farstad who backhanded it along the ice inside the far post.
The Norwegians started the second period the same way they started the first, as Andrea Dalen scored in the first minute on a beautiful individual effort in which she went to her backhand and placed it perfectly under the crossbar to make it 3-0. Four minutes later it was 4-0 when Farstad scored her second of the game on a one-timer, and it looked like Norway might run away with this game.
After that, the Slovak team seemed to wake up, but they had an uphill climb ahead of them. Miriam Mikeskova got things going on a power play when she fired a perfect shot off the far post and in that Toini Veronica Nilsen had no chance on. Then the Slovaks nearly cut the deficit to two goals late in the period, but Livia Lucova´s shot on a dangerous-looking rush rang off the goalpost and out.
They finally did cut the score to 4-2 when Lenka Srokova tucked a backhander under the crossbar and, with still 10:55 on the clock, it looked like they might have a chance after all.
After being so badly outplayed in the first 25 minutes, the tied had turned in Slovakia´s favour, but they needed to press hard, and that resulted in chances the other way. If the Norwegians were getting worried, Henriette Stelback eased the tension a little bit when she scored on a slap shot with 6:38 to play.
The teams then traded goals in the last three minutes. Slovakia came back within two goals when Viktoria Ihnatova finished off a nice move with 2:09 left, but Dalen closed out the scoring less than a minute later with her second of the game.
Reactions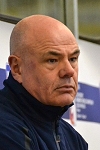 Arne Billkvam (Norway): We had good start, scored some goals and it looked good for us. Then we let Slovakian play, luckily we made the ending of the game and controled it so it was good game from our side.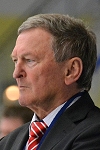 Milan Skokan (Slovakia): Start of the game was good from our side, first five minutes we played mostly in the offensive zone. But then came mistakes and penalties which costed us goals. Rest of the first period was misery. In second period we played better but it wasn´t enough. They deserved to win and I have to congratulate to them. I believe that our play will get better, we can play much better.
Games
Short news
Best players of WWC
12.04.2014
- The Directorate of the 2014 IIHF Women's World Championship has determined the best players of the whole tournament. As the best goalie was named Klara Peslarova from the Czech Republic, as the best defender was awarded Silje Holos from Norway. Her teammate, Andrea Dalen, was named as the best forward.
U-15 game today!
11.04.2014
- The Women's World Championship has a day off, but Meo Aréna in Přerov will still be busy An international exhibition game in the women's U15 category will be played between the
Czech Republic
and
Hungary
. The game starts at 18:15.
Official programs!
09.04.2014
- During the game between the Czech Republic and Norway, a kiosk with official programs will again be on display. You can buy one and get some very interesting tournament information.
New website launched
23.01.2014
- The official website of the IIHF Women´s World Chapmionship Dvision I, Group A has just been launched. The Tournament will take place in Prerov´s ice hockey arena between the 6th – 12th of April, 2014.
Tournament schedule
23.01.2014
- The games schedule was published on the official website of the upcoming Women´s World Championship Division 1, Group A.
Facebook
WCH partners