Shootout win for Austria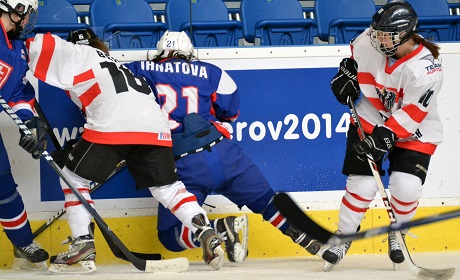 The closing game for Austria and Slovakia started the final day of the tournament. In first two periods the Slovaks were better and gained a two-goal lead, but in the third period the Austrians scored twice to tie it. In the shootout, the only goal was scored by Anna Maria Beiter-Schwarzler, giving the bonus point to Team Austria.

Slovakia
3:4so

Austria
Periods: 1:1, 2:0, 0:2 - 0:0
Slovakia: Budajova – Rakova, Lucova, Klimasova, Lalikova, Zitnanska, Ihnatova, Turcsanyiova – Srokova, Gapova, Kezmarska – Miskova, Velickova, Mikeskova – Herichova, Jurcova, Pravlikova.
Austria: Marchhart – Wittich, Hybler, Fazokas, Grascher, Schneider, Kainberger, Hausenberger – Meixner, Beiter Schwarzler, Altmann – Hanser, Weber, Kantor – Vlcek, Volgger, Ullrich – Brunner, Lopez.
Goals and assists: 5. Gapova (Lucova), 26. Ihnatova (Srokova), 27. Mikeskova (Lalikova) – 18. Beiter-Schwarzler (Altmann, Schneider), 46. Meixner (Altmann), 60. Brunner (Altmann), dec. p.s. Beiter-Schwarzler
Shots on goal: 24:48 (13:16, 8:12, 1:16 - 2:1).
Penalties: 11:3. PP goals: 1:0. SH goals: 0:0.
Referees: Glenn (USA) – Inoue (JPN), Visala (FIN). Attendance: 149.
Photogallery
Game report
First chance of the game had Slovak player Herichová but her attempt found only goalkeeper. Few seconds after got into getaway Anna Meixner but her backhand move wasn´t successful either. First goal of the match scored Slovak team in fifth minute when Nikola Gápova shot in front of the goalkeeper and found the right place. Big chance to add second goal had four minutes before the end of first period Mikesková but her shot from breakaway wasn´t accurate. So Austria hit when in messy situation in front of the net got puck inside the goal Eva Beiter-Schwarzler.
Start of the period was thanks to powerplays better for Team Austria but they haven´t taken the lead on their side. So Slovakia punished them in twenty-sixth minute from inconspicuous action when Viktoria Ihňatová found space in Marchharts net. Few seconds after Slováka lead was a goal bigger. In powerplay scored Miriam Mikesková. Amazing chance to add fourth goal had Jurčová but her getaway finsihed with backhand move hasn´t worked out. Team Austria then locked Slovak team in their defensive zone but even this perssure with plenty of shots hasn´t meant goal.
Begining of the third period was balanced but it was Austria who scored and got closer to equalization the score after beautiful shot by Anna Meixner. Huge opportunity to even the game had Austria few moments after in five on three powerplay but they haven´t used it up. Austria became more active also thanks to powerplays and they made plenty of great chances which turned into goal thirty-two seconds before the end of third period and the lucky shooter was Marlene Brunner when Austria played with empty net.
Chance to decide in overtime had Slovak team in powerplay but they wasted it and so the same opportunity had Team Austria but even though they locked Slovak players in thein defensive zone they haven´t turned it into a goal so the deciding moment had to come in shootouts.
Because the only successful scorer in shootouts was Eva Beiter-Schwarzler in sixth serie Team Austria gained the bonus point.
"Unfortunately we failed in the end when viros started to make fouls and we couldn´t make it. Austria had very skilled players and also team spirit had helped them," said Slovak goalkeeper Jana Budajová.
Reactions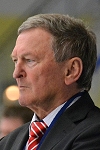 Milan Skokan (Slovakia): I think we lost in vain today because we had started the game well but the third period was full of mistakes but it´s connected technical facility of girls. Unfortunately in Slovakia we have three or four teams and it´s problem for us to make good national team.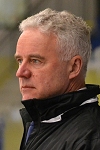 Pekka Hamalainen (Austria): It was not so easy this game. We have many scoring chances in the first period but we didn't use them and it was 1:1. Second period was bad from us, the scored twice and we had many problems with them. In last period we played very well and we tied the game. When I sum up the whole tournament , we aren't supposed, we wanted to be higher.
Games
Short news
Best players of WWC
12.04.2014
- The Directorate of the 2014 IIHF Women's World Championship has determined the best players of the whole tournament. As the best goalie was named Klara Peslarova from the Czech Republic, as the best defender was awarded Silje Holos from Norway. Her teammate, Andrea Dalen, was named as the best forward.
U-15 game today!
11.04.2014
- The Women's World Championship has a day off, but Meo Aréna in Přerov will still be busy An international exhibition game in the women's U15 category will be played between the
Czech Republic
and
Hungary
. The game starts at 18:15.
Official programs!
09.04.2014
- During the game between the Czech Republic and Norway, a kiosk with official programs will again be on display. You can buy one and get some very interesting tournament information.
New website launched
23.01.2014
- The official website of the IIHF Women´s World Chapmionship Dvision I, Group A has just been launched. The Tournament will take place in Prerov´s ice hockey arena between the 6th – 12th of April, 2014.
Tournament schedule
23.01.2014
- The games schedule was published on the official website of the upcoming Women´s World Championship Division 1, Group A.
Facebook
WCH partners