France start slow, then destroy Austria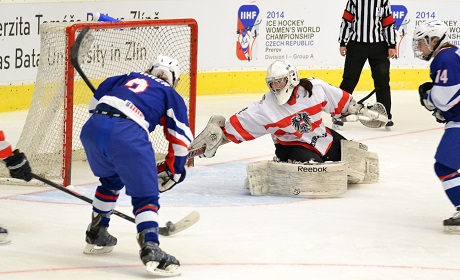 Wednesday´s first game was between France and Austria. Team Austria took quick lead but France showed determination and took over the game. France scored their first three goals on the power play, eventually bombarding Austria 7-2. French goalie Caroline Baldin made 27 saves.

France
7:2

Austria
Periods: 1:1, 3:0, 3:1
France: Baldin – Locatelli, Gendarme, Goncalves, Lager-Lacombe, Bouetz-Andrieu, Parment, LeClerc, Ridde – Duvin, Allemoz, Baudrit – Fohrere, Passard, Bouche – Escuder, Jouanny, Cuasnet – Obre, Vix, Rihet
Austria: Marchhart (31. - 46. Hornich) – Wittich, Hybler, Fazokas, Hummel, Schneider, Kainberger, Hausberger, Hammerle – Meixner, Altmann, Kantor – Grascher, Weber, Beiter-Schwarzler – Vlcek, Brunner, Ullrich – Volgger, Hanser, Lopez
Goals and assists: 16. Parment (Boutez-Andrieu), 27. Passard (Parment), 31. Allemoz (Duvin), 34. Vix, 46. Escuder, 51. Baudrit (Rihet), 60. Locatelli (Passard, Gendarme) – 5. Weber (Kainberger), 56. Meixner (Altmann)
Shots on goal: 33:29 (10:14, 11:6, 12:9).
Penalties: 5:6. PP goals: 4:1. SH goals: 0:0.
Referees: Ugajin (JPN) – Schipper-Poeteray (NED), Stastna (CZE). Attendance: 150.
Photogallery
Game report
After one day of rest, all six teams are back in action on Wednesday. between France and Aushe first was between France and Austria. France had one win and one loss, so they could be satisfied. Team Austria played good hockey but they hadn't luck, they had just one point from an overtime loss to Denmark.
The game started at good tempo and Team Austria took a quick lead. Janie Weber had two chances and from the second she scored. She stood in front of the crease and shot. Team France then got three overlapping penalties, creating two five-on-three advantages, but the Austrians couldn't create enough pressure. With four minutes left in the period, Team France got their first power play and Lea Parment scored after just 15 seconds with huge slap shot from the top of circle.
Early in the second period, Austria failed on another power play and France scored quickly on another of theirs. Parment shot from the blue line and Emmanuelle Passard put in the rebound on her backhand after just 16 seconds.
Following a two quick Austrian penalties, including one to Austrian goalie Paula Marchhart for tripping, Team France made it 3-1 on a two-player advantage on a shot from the left circle by Marion Allemoz. That was to much for the Austrians and they changed goalies. Marchhart was replaced by Theresa Hornich.
Team France continued in their disciplined play and scored again. A fast rush up the ice ended with a quick shot from Jane Vix. France was then in control of the game, dictating tempo and shooting from every position. They dominated in the second period and they took a three-goal lead.
France pulled away in the third period with three more goals, while the Autrians got only one. The fifth goal was scored after a good forchecking by Lara Escuder, after which Hornich left the Austrian net and stater Marchhart returned. Five minutes later came the sixth goal by Lore Baudrit on a two-on-one. Austria finally got one on the power play from Anna Meixner, but they had no chance by this time. France finished the scoring with only 8 second on the clock when Athena Locatelli nicely deflected Passard's slap shot.
Now with 6 points, France is in a good position to stay in Division I Group A, while Austria is in real danger of being relegated.
Reactions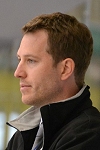 Gregory Tarle (France): We prepared pretty well, we wanted win. The biggest moment came in second period, we used our power plays. We didn't expect this result. I thought that the game would be closer, as the whole tournament. You know, this division is very close together, all the teams have a chance. We'll be just waiting on the result between the Czechs and Norway.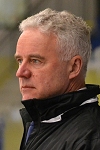 Pekka Hämäläinen (Austria): We started well in the first period. We had power plays and we didn´t score. France had power plays and they scored. I don´t know what happened in the second period. We weren´t playing well. The next games will be important for us and we have to play like against the Czech Republic.
Games
Short news
Best players of WWC
12.04.2014
- The Directorate of the 2014 IIHF Women's World Championship has determined the best players of the whole tournament. As the best goalie was named Klara Peslarova from the Czech Republic, as the best defender was awarded Silje Holos from Norway. Her teammate, Andrea Dalen, was named as the best forward.
U-15 game today!
11.04.2014
- The Women's World Championship has a day off, but Meo Aréna in Přerov will still be busy An international exhibition game in the women's U15 category will be played between the
Czech Republic
and
Hungary
. The game starts at 18:15.
Official programs!
09.04.2014
- During the game between the Czech Republic and Norway, a kiosk with official programs will again be on display. You can buy one and get some very interesting tournament information.
New website launched
23.01.2014
- The official website of the IIHF Women´s World Chapmionship Dvision I, Group A has just been launched. The Tournament will take place in Prerov´s ice hockey arena between the 6th – 12th of April, 2014.
Tournament schedule
23.01.2014
- The games schedule was published on the official website of the upcoming Women´s World Championship Division 1, Group A.
Facebook
WCH partners