Norway smashes up Denmark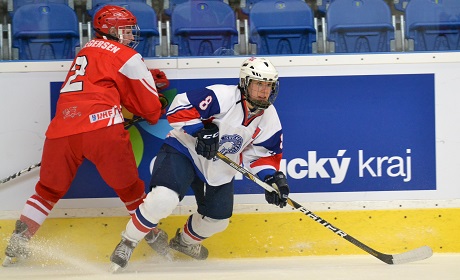 Team Norway won this Nordic derby without much trouble. They secured their victory in the first period when they scored three times. Two goals were scored by Andrea Dalen, and best players chosen for each team were Josephine Asperup and Ingvild Farstad.

Denmark
1:5

Norway
Periods: 0:3, 0:1, 1:1
Denmark: Joa – Frandsen, Gregersen, Densing, Olausson, Jacquet, S. Jensen, Langsager – Persson, Asperup, N. Jensen – Marie Henriksen, Jakobsen, Weis – Russell, M. B. Nielsen, Glud – Soendergaard, K. L. Nielsen.
Norway: Nilsen – Gunther, Holos, Morset, Tautra, Oiseth, Carlsson, Aakreo – Farstad, Dalen, Fischer – Sletbake, Martine Henriksen, Haug-Hansen – Lovdal, Bakkene, Scott – Wais, Fjellvang.
Goals and assists: 46. Olausson (Henriksen) – 6. Haug-Hansen (Holos), 9. Dalen (Fischerová, Tautra), 11. Sletbak (Haug-Hansen), 34. Gunther (Sletbak, Haug-Hansen), 58. Dalen (Farstad).
Shots on goal: 28:26 (8:10, 12:10, 8:6).
Penalties: 4:5. PP goals: 0:1. SH goals: 0:1.
Referees: Hengst (NED) – Schipper-Poeteray (NED), Statsna (CZE). Attendance: 164.
Photogallery
Game report
Monday afternoon offered a Nordic derby between Denmark and Norway. On Sunday, Team Norway upset Slovakia, while Team Denmark also played a very dramatic game, so this game was highly anticipated.
The first five minutes were played carefully, but then Norway scored three quick goals. The first came on Madelen Haug-Hansen´s surprising shot from the right circle at 5:55. The next goal came three minutes later, when Andrea Dalen was strong in a crease and put the puck behind Amalie Joa. It took only 90 seconds for Team Norway to score their third goal. Henriette Sletbak stoodd alone in front of the Danish goalie, got the puck and rebounded it in the net at 10:10. Then we saw some power plays but nobody scored, so the first period ended with Norway´s three-goal lead.
Second period was very tied, both teams played mostly offensive hockey but both teams also defended well. In 25th minute made Morset big mistake, she passed puck to Olausson. Denmarkian attacker stayed before crease but she couldn´t cover Veronica Nielsen. Six minutes before horn played Team Norway power play. Marlene Gunther´s shot from right side went through whole defence to the net.
Last third started Team Norway with huge pressure. They were in offensive zone, sent a lots of shots on a goalie but they didn´t score. Goal came on the other side. Henriksen sent precise pass to Marina Olausson and her slap shot finished in Nielsen´s net. Team Denmark then played a few power plays but they didn´t score, goal fall in the other net. Andrea Dalen took a puck in their defensive zone and scored a goal in short-handed play.
Norway got another three points and after two matches they still didn't lose. This time, Denmark didn't get any point. "It was a very difficult game. I know we have always tough games against Norway," said the only Danish scorer Olausson. "We came out weak in the first period, our defense wasn't good enough. Then we played a lot better, had a lot of good opportunities, but we don't score. And if you want to win the game, you need to score."
Reactions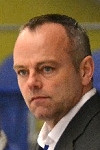 Denis Larsen (Denmark): We still have to improve in all three periods. We have some problems in the defensive playing, but in the offensive we are pretty good. I think in second and third period we played very well and had Norwegian in their own end for lot of time. But we couldn't score and thats the problem.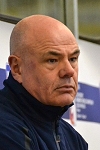 Arne Billkvam (Norway): I think Danish is a good team. We had very good match, but the next one will be very important. We controlled the game, Danish team then set the press on us and created many chances, but I think we really controlled it. You never know, so we are very happy.
Games
Short news
Best players of WWC
12.04.2014
- The Directorate of the 2014 IIHF Women's World Championship has determined the best players of the whole tournament. As the best goalie was named Klara Peslarova from the Czech Republic, as the best defender was awarded Silje Holos from Norway. Her teammate, Andrea Dalen, was named as the best forward.
U-15 game today!
11.04.2014
- The Women's World Championship has a day off, but Meo Aréna in Přerov will still be busy An international exhibition game in the women's U15 category will be played between the
Czech Republic
and
Hungary
. The game starts at 18:15.
Official programs!
09.04.2014
- During the game between the Czech Republic and Norway, a kiosk with official programs will again be on display. You can buy one and get some very interesting tournament information.
New website launched
23.01.2014
- The official website of the IIHF Women´s World Chapmionship Dvision I, Group A has just been launched. The Tournament will take place in Prerov´s ice hockey arena between the 6th – 12th of April, 2014.
Tournament schedule
23.01.2014
- The games schedule was published on the official website of the upcoming Women´s World Championship Division 1, Group A.
Facebook
WCH partners