France defeat Slovakia with fighting performance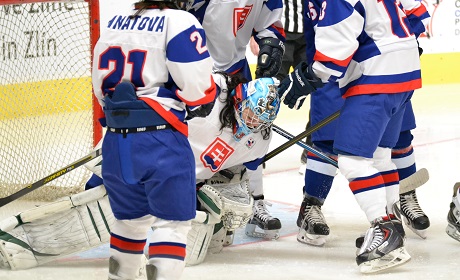 The second day of this tournament started with match between Slovakia and France. Both teams were defeated yesterday, so they wanted to change their situation. Slovakia had a better start and scored early, but France didn´t give up and fought back to win.

Slovakia
1:3

France
Periods: 1:0, 0:2, 0:1
Slovakia: Budajova (26. Kiapesova) – Balasova, Kezmarska, Klimasova, Lalikova, Zitnanska, Ihnatova, Rakova, Turcsanyiova – Srokova, Gapova, Lucova – Mihalikova, Velickova, Mikeskova – Herichova, Jurcova, Pravlikova – Krajnakova, Muchova, Miskova.
France: Baldin – Locatelli, Gendarme, Goncalves, Lager Lacombe, Bouetz Andrieu, Parment, Leclerc, Ridde – Duvin, Allemoz, Baudrit – Fohrer, Passard, Bouche – Escudero, Jouanny, Cuasnet – Obre, Vix, Rihet.
Goals and assists: 4. Herichova (Jurcova) – 23. Fohrer (Passard), 26. Parment (Duvin), 60. Allemoz
Shots on goal: 30:28 (11:7, 5:13, 14:8).
Penalties: 8:5, plus Cuasnet (FRA) misconduct [CHE-H]. PP goals: 0:2. SH goals: 0:0.
Referees: Glenn (USA) - Hüffner (GER), Mala (CZE). Attendance: 177.
Photogallery
Game report
Both teams made many chances at the start of the game, but Caroline Baldin and Jana Budajova were well-prepared and they stopped all the early shots. After four minutes, there was a bigger scoring opportunity. Petra Jurcova sent a perfect pass to Maria Herichova and she scored with wrist shot between Baldin´s pads. At this time, Slovakia was dictationg the tempo of the game. The French players had big problems with offensive recovery. They just had a few rushes, but they didn´t score.
The second period started with a Slovakian power play. They played it well but didn´t score. Team France then had a power play too and they scored on it. A fast break ended with a backhand deke by Soline Fohrer. Three minutes later, France took the lead, scoring on their second power play. In front of Slovakian goalie Budajova was a lot of chaos, but Virginie Bouetz Andrieu got to the puck first and scored. "Penalty killing isn´t our domain, we have lot´s of troubles with it," said Maria Herichova.
That was the end of the game for Budajova, who was replaced by Romana Kiapesova. France then were more active and they were playing with good energy. They continued with more and more pressure, but Kiapesova was attentive and stopped everything.
Both teams began the last period very carefully. They each had a power play but nobody scored. France had the better chances, but Kiapesova reacted well. Team Slovakia tried apply some pressure, but thte French defence was organised and compact, and Baldin made many good saves. Four minutes before the end, France took a penalty and Slovakia had a chance to tie the score. They created some opportunities, but Bladin was perfect. At the end, Slovakia pulled their goalie and French captain Marion Allemoz shot the puck into the empty net with just four seconds left. That assured France their first 3 points.
Reactions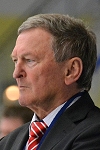 Milan Skokan (Slovakia): I think that the first period was decisive. We were better but we didn´t turn that into goals. In the second period we were very weak, we allowed France to control the game and that was very bad. The third period was something like catching an escaped rabbit.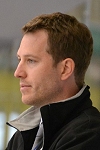 Gregory Tarle (France): We had a bad start, but from the second period on we played better and we started to feel that we could beat Team Slovakia. It was a very different game than against the Czechs. We are ready to play with every team.
Games
Short news
Best players of WWC
12.04.2014
- The Directorate of the 2014 IIHF Women's World Championship has determined the best players of the whole tournament. As the best goalie was named Klara Peslarova from the Czech Republic, as the best defender was awarded Silje Holos from Norway. Her teammate, Andrea Dalen, was named as the best forward.
U-15 game today!
11.04.2014
- The Women's World Championship has a day off, but Meo Aréna in Přerov will still be busy An international exhibition game in the women's U15 category will be played between the
Czech Republic
and
Hungary
. The game starts at 18:15.
Official programs!
09.04.2014
- During the game between the Czech Republic and Norway, a kiosk with official programs will again be on display. You can buy one and get some very interesting tournament information.
New website launched
23.01.2014
- The official website of the IIHF Women´s World Chapmionship Dvision I, Group A has just been launched. The Tournament will take place in Prerov´s ice hockey arena between the 6th – 12th of April, 2014.
Tournament schedule
23.01.2014
- The games schedule was published on the official website of the upcoming Women´s World Championship Division 1, Group A.
Facebook
WCH partners