Battle for the 1st place goes to Team Czech Republic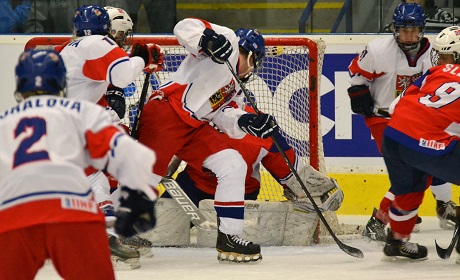 In what many were predicting as the game to decide which team would win the group, the Czech Republic faced Norway on Wednesday night in front of electric home crowd. The Czechs came out strong and scored a goal in each of the first two periods. The Norwegians tried to build some offence in the last period, but the Czechs played strong defence and didn´t allow them to score. The final score was 2-0, putting the Czechs in good position to gain promotion.

Czech Republic
2:0

Norway
Periods: 1:0, 1:0, 0:0
Czech Republic: Peslarova – Tejralova, Laskova, Herzigova, Fialova, Flachsova, Horalkova, Hudeckova – Krizova, Mrazova, Kaplanova – Polenska, Studentova, Holesova – Ledlova, Vanisova, Pribylova – Bukolska, Povova, Vonkova – Manhartova.
Norway: Nilsen – Gunther, Holos, Morset, Tautra, Oiseth, Lovdal, Aakre – Farstad, Dalen, Fischer – Sletbak, Henriksen, Haug-Hansen – Carlsson, Bakken, Scott – Wais, Fjellvang.
Goals and assists: 17. Studentova (Holesova, Polenska), 31. Krizova (Mrazova).
Shots on goal: 24:15 (8:4, 10:5, 6:6).
Penalties: 7:10. PP goals: 0:0. SH goals: 0:0.
Referees: Glenn (USA) – Stratton (CAN), Visala (FIN). Attendance: 1754.
Photogallery
Game report
First period started militantly. Norwegian team started with strong defense strategy so the Czech team spent most of the time in offensive zone but without any bigger chance. First better chance had in powerplay Alena Polenská but the puck jumped over her stick. Czech team made a great pressure in powerplays and it continued in normal play and eventually turned into goal after shot of Simona Studentová and Czech players were deservedly in the lead.
Second period was very similar to the first one. Both team played carefully with awareness of how important this match is. Big chance had Simona Studentová but her rebound hit only the goalkeeper. Then in the middle of the game Czech team scored again when Denisa Křížová shot between legs of Nilsen and added second goal. Czech team had then opportunity to raise its lead in couple of powerplays but any of them haven´t brought change of score.
In the begging of first period there was evident try of Team Norway to at lest even the score. They made good pressure in powerplays but none of them ended up in Peslarovás net. Norwegian team continued to attack Peslarová but Czech goalkeeper was really good. Huge chance to decide had Czech players in powerplay when one of them hit the bar and rebound wasn´t successful. Czechs deffended thein lead very well and they haven´t allowed Team Norway to make any final pressure and won 2:0.
"I think we played well we were following our tactic and keeping our obligations as players," clarified reasons of Czechs win Denisa Křížová.
Reactions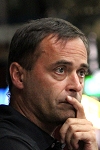 Jiří Vozák (Czech Republic): We played from the beggining responsibly we played what we wanted to play offensive hockey perfekt defense. I think we didn´t let Norwegian players to do anything.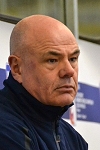 Arne Billkvam (Norway): We would need some luck to score the first goal and then anything could happen. But we met the good Czech team and this was the first time for many of our girls to play for such big crowd and under pressure. I think we did well, it's only two goals behind, and that's OK. The Czechs played a good senior hockey, it's the best team we've met so far. Afterall, they earned to win the game.
Games
Short news
Best players of WWC
12.04.2014
- The Directorate of the 2014 IIHF Women's World Championship has determined the best players of the whole tournament. As the best goalie was named Klara Peslarova from the Czech Republic, as the best defender was awarded Silje Holos from Norway. Her teammate, Andrea Dalen, was named as the best forward.
U-15 game today!
11.04.2014
- The Women's World Championship has a day off, but Meo Aréna in Přerov will still be busy An international exhibition game in the women's U15 category will be played between the
Czech Republic
and
Hungary
. The game starts at 18:15.
Official programs!
09.04.2014
- During the game between the Czech Republic and Norway, a kiosk with official programs will again be on display. You can buy one and get some very interesting tournament information.
New website launched
23.01.2014
- The official website of the IIHF Women´s World Chapmionship Dvision I, Group A has just been launched. The Tournament will take place in Prerov´s ice hockey arena between the 6th – 12th of April, 2014.
Tournament schedule
23.01.2014
- The games schedule was published on the official website of the upcoming Women´s World Championship Division 1, Group A.
Facebook
WCH partners