Team Austria upset Norwegians, now very close to remaining in Group A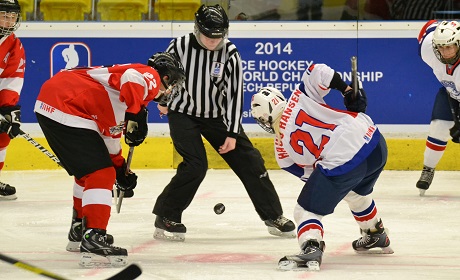 This game has shown us how balanced the teams are in this tournament. Many considered the Norwegians heavy favourites, but that´s not how it played out on the ice. Although Norway scored the first goal early in the second period, Austria led 3-2 by the end of the second period and added two more goals in the third for a huge win. Now if Slovakia lose to the favoured Czechs in the day´s late game, Austria´s position in the group for next year will be secure.

Austria
5:2

Norway
Periods: 0:0, 3:2, 2:0
Austria: Marchhart – Wittich, Kantor, Fazokas, Grachser, Schneider, Hybler, Kainberger, Hausberger – Meixner, Beiter Schwarzler, Altmannn - Hanser, Hummel, Weber - Vlcek, Volgger, Lopez - Brunner, Ullrich, Hammerle
Norway: Nilsen – Gunther, Holos, Morset, Tautra, Oiseth, Lovdal, Aakre – Farstad, Dalen, Fischer - Sletbak, Henriksen, Haug-Hansen - Wais, Bakkene, Carlsson - Fjellvang, Scott
Goals and assists: 28. Beiter Schwarzler (Altmann), 30. Beiter Schwarzler (Altmann, Wittich), 37. Hummel (Weber), 46. Altmann (Beiter Schwarzler), 47. Meixner (Grascher) – 23. Dalen (Holos, Farstad), 33. Fischer (Lovdal, Farstad)
Shots on goal: 33:39 (7:15, 16:9, 10:15).
Penalties: 6:2. PP goals: 1:1. SH goals: 1:0.
Referees: Hengst (NED) - Inoue (JPN), Mala (CZE). Attendance: 175.
Photogallery
Game report
First period started Norwegian team better and Andrea Dalen twice tried to score. Her first shot went only wide net, second opportunity caught Paula Marchhart. Austrian team shown its good form and Eva Maria Beiter Schwarzler appeared in big chance, her shot ended only in Nilsen's equipment. Norwegians were more active and in last minutes of opening period, Andrea Dalen was in great opportunity again. Austrian goaltender Marchhart her one-timer heading to empty net blocked with her goalie pad. Thanks to her performance, Austrian were playing with Team Norway still without goals.
Players from Central Europe started middle period with pressure but their chances didn't bring goal. On the opposite side, Team Norway scored. Andrea Dalen's fired from left wing fell throw Marchhart's armpit behind goal line. Team Austria did not resign and in short-handed tied the score. Eva Maria Beiter Schwarzler received puck before empty net and scored. But it wasn't all.
In power-play Beiter Schwarzler scored her second goal. Her rebound of Altmann's shot sent Hämäläinen's team to leading. Three minutes later, goal harvest continued. Mathea Fischer deflected Lovdal's shot and equalized score. Team Austria took its leading back when Veronica Hummel rebounded Weber's shot precisely. Both teams had in the end of second part of game good chance, goalies made pretty fantastic saves.
Team Austria had great entrance to the third period. Denise Altmann scored with great backhand trick and one minute later, Victoria Hummel ended her break with nice shot to far post. Nilsen had no chance to make save. Austrians got wings and purveyed Norwegian goalie with work. Toini Veronica Nilsen blocked all opponents' attempts and because Paula Marchhart was smilarly successful, Team Austria celebrated 5-2 victory.
Reactions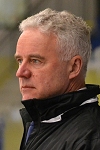 Peka Hämäläinen (Austria): I am very satisfied with our performance. We had pressure and won the game. It is very important for us. This lines were playing good and maybe we will play with this lines in the next match too. Paula Marchhart is good goalie and today performed great again.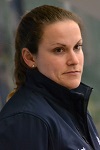 Laura Rollins (Norway, assistant coach): We have expected that it will be one of harder matches. We did not played what we wanted to play. Austrians had couple of great rebounds. We missed a little bit luck, it sometimes happens in ice hockey. Honestly, it was pretty tought game with Czech Republic and some girls could be a little bit tired.
Games
Short news
Best players of WWC
12.04.2014
- The Directorate of the 2014 IIHF Women's World Championship has determined the best players of the whole tournament. As the best goalie was named Klara Peslarova from the Czech Republic, as the best defender was awarded Silje Holos from Norway. Her teammate, Andrea Dalen, was named as the best forward.
U-15 game today!
11.04.2014
- The Women's World Championship has a day off, but Meo Aréna in Přerov will still be busy An international exhibition game in the women's U15 category will be played between the
Czech Republic
and
Hungary
. The game starts at 18:15.
Official programs!
09.04.2014
- During the game between the Czech Republic and Norway, a kiosk with official programs will again be on display. You can buy one and get some very interesting tournament information.
New website launched
23.01.2014
- The official website of the IIHF Women´s World Chapmionship Dvision I, Group A has just been launched. The Tournament will take place in Prerov´s ice hockey arena between the 6th – 12th of April, 2014.
Tournament schedule
23.01.2014
- The games schedule was published on the official website of the upcoming Women´s World Championship Division 1, Group A.
Facebook
WCH partners