Wonderful performance by Josefine Persson -- 4 goals lead Danes to OT victory!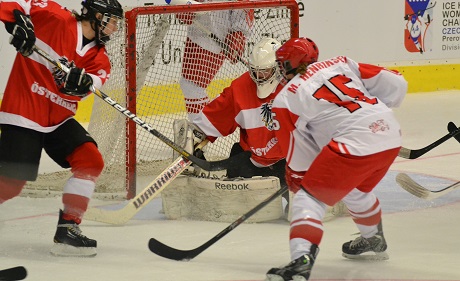 The last game of the opening day is behind us. For two periods, Team Austria had this match under control, but then a fantastic performance by Danish forward Josefine Persson turned the game around. She completed her hat-trick in third period and then scored the winner in overtime. "I think Austria played a very good game too, but we still believed that we could do it," a happy Persson said after the game. The Danish sniper was named as the best player of her team. From the Austrian team, Eva Maria Beiter Schwarzler was awarded.

Austria
4:5ot

Denmark
Periods: 1:0, 1:0, 2:4 - 0:1
Austria: Marchhart – Wittich, Hybler, Fazokas, Hummel, Schneider, Hammerle, Kainberger, Hausberegr – Meixner, Altmann, Kantor – Grascher, Weber, Beiter Schwarzler – Brunner, Lopez, Ullrich – Vlcek, Volgger, Hanser.
Denmark: Joa – Frandsen, Gregersen, Jacquet, Glud, Densing, Russel, Langsager – Persson, Asperup, N. Jensen, Jakobsen, Henriksen, Olausson – M. Nielsen, S. Jensen, Weis – Soendergaard, K. L. Nielsen.
Goals and assists: 9. Schwarzler (Wittich), 26. Meixner (Altmann, Kantor), 49. Hummel, 54. Meixner – 42. Persson (Gregersen), 48. Persson, 49. Persson, 60. Frandsen (Asperup), 64. Persson
Shots on goal: 30:39 (7:11, 8:14, 14:13 - 1:1).
Penalties: 4:5. PP goals: 0:0. SH goals: 0:0.
Referees: Ugajin (JPN) – Mala, Stastna (both CZE). Attendance: 153.
Photogallery
Game report
Both teams started the game at a good tempp. There were great chances on both sides but the goalkeepers were prepared and saved all opportunities. In the 9th minute Charlotte Wittich's pass chased down Eva Maria Beiter Schwarzler, who made a fantastic forehand deke and opened the scoring.
Silke Glud could haved tied it a few minutes later, but Austrian goaltender Paula Marchhart made a fantastic save and stopped puck from sliding to an empty net before the goal line. This exciting game with a great deal of chances brought one slightly funny moment. Maria Olausson was given a really bad pass and the puck was pushed off an Austrian player's skate but Amalie Joa was careful and the puck, which was sliding to the net, was blocked.
Five minutes after the start of second period, the team from Central Europe scored again. A nice rush was led by Denise Altmann, who found on the opposite circle an unguarded Anna Meixner, and her one-timer was precise and sent her team into a two-goal lead.
There were several more chances, but no more goals that period. Josefine Jakobsen fired after a perfect combination. Her backhand became a prey for Marchhart. Denise Altmann twice tried her luck, but in her first opportunity the puck escaped from her stick and then her shot was saved by Amalie Joa.
The third period was delayed for a while because of wet ice behind the Austrian net. After this unplanned delay, Team Denmark cut the score. Josefine Persson received nice pass to the free place between circles and her shot came under Marchhart hand behind goal line. Team Denmark was controlling game and tied the score! Persson escaped on right wing and she shot through a standing Marchhart. "I think it was good and we kept our best. It's a little bit disappointing that we lost our lead," said the sad Austrian goalie.
Thirty seconds after that, Victoria Hummel found the puck in scramble in front of Amalie Jao and the Austrians took the lead back. But this fantastic match with several chances brought yet another goal. Persson fired a quick shot, completed her hat-trick and evened the score.
Drama was going on and it was Team Austria who scored another goal. Anna Meixner's perfect forehand deke but her team back in front 4-3 with 6:57 left on the clock. It seemed unbelievable, but the Danish team tied the score once again. After both teams killed off penalties, Team Denmark pulled their goalie for a sixth attacker and Malene Frandsen scored from big scramble with just 30 seconds to play.
Score was 4-4 after regular time and so the game went to overtime, which was decided in favour of Denmark. The game-winning goal couldn't have been scored by anyone other than Josefine Persson. She overtook the Austrian defence and her solo effort ended with a shot between the goalie's legs. "I'm very happy. It was very good game and we did a good job. If we fight like we did in this game, we can win in the next match too," roused the current top scorer in the whole tournament.
Reactions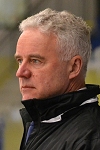 Pekka Hämäläinen (Austria): It's not such a good feeling. We had to win but we have only one point. But it's the start of tournament and we have still another four games ahead of us. After the time-out, we tried to keep our plan but there were some good individual plays and we had some mistakes there.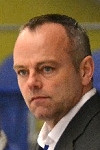 Denis Larsen (Denmark): I'm very happy. It was a very good game. We couldn't play what we want to play. It was very difficult in еру first two periods. I saw the Czech Republic - France game and I can say that it'll be harder for us next game against the Czech team. In the next game we will play with the same lines.
Games
Short news
Best players of WWC
12.04.2014
- The Directorate of the 2014 IIHF Women's World Championship has determined the best players of the whole tournament. As the best goalie was named Klara Peslarova from the Czech Republic, as the best defender was awarded Silje Holos from Norway. Her teammate, Andrea Dalen, was named as the best forward.
U-15 game today!
11.04.2014
- The Women's World Championship has a day off, but Meo Aréna in Přerov will still be busy An international exhibition game in the women's U15 category will be played between the
Czech Republic
and
Hungary
. The game starts at 18:15.
Official programs!
09.04.2014
- During the game between the Czech Republic and Norway, a kiosk with official programs will again be on display. You can buy one and get some very interesting tournament information.
New website launched
23.01.2014
- The official website of the IIHF Women´s World Chapmionship Dvision I, Group A has just been launched. The Tournament will take place in Prerov´s ice hockey arena between the 6th – 12th of April, 2014.
Tournament schedule
23.01.2014
- The games schedule was published on the official website of the upcoming Women´s World Championship Division 1, Group A.
Facebook
WCH partners