Norway beat France, secure at least bronze medal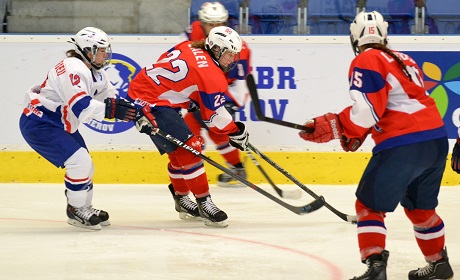 In a game that featured two teams tied with 6 points, the winner would be guaranteed at least a bronze medal -- and a good chance at a silver -- and the loser would go home without a medal. Despite being outshot 47-15, Norway got excellent goaltending from Toni Veronica Nilsen and won 4-1. Andrea Dalen scored 2 goals and Ingvild had a goal and an assist.

Norway
4:1

France
Periods: 1:1, 2:0, 1:0
Norway: Nilsen (Due-Sorensen) – Gunther, Holos, Morset "C", Tautra, Lovdal, Oiseth – Farstad "A", Sletbak, Dalen "A" – Henriksen, Haug-Hansen, Fischer – Aakre, Carlsson, Bakkene – Wais, Fjellvang, Scott.
France: Baldin (Morin) – Locatelli, Gendarme, Goncalves, Lager Lacombe, Bouetz Andrieu "A", Parment, Leclerc, Ridder – Duvin, Allemoz "C", Baudrit – Fohrer, Passard, Bouche "A" – Escudero, Jouanny, Cuasnet – Obre, Vix, Rihet.
Goals and assists: 3. Farstad (Henriksen), 24. Dalen (Farstad, Morset), 26. Fischer, 60. Dalen – 18. Allemoz (Baudrit)
Shots on goal: 19:48 (2:11, 12:17, 5:20).
Penalties: 7:6. PP goals: 3:1. SH goals: 1:0.
Attendance: 137.
Photogallery
Game report
With the first and last teams already decided on Thursday, the most interesting game on Saturday featured Norway and France. The two teams entered tied for third place in the tournament with 6 points, and only the winner would get a medal. In the end, Norway won 4-1 and move into second place with 9 points – Denmark has 8 points but still one game left.
From the start, it seemed neither team wanted to make a mistake, playing rather defensively. Then France got the first penalty at the two-minute mark when Sophie LeClerc was called for high-sticking. It took exactly one minute for Norway to open the scoring, with Ingvild Farstad scoring on the rebound. Power plays would play a big part in this game, with no goals coming at even strength.
The rest of the first period will be all France, as they out-shot the Norwegians 11-0 the rest of the way, largely due to four straight Norwegian penalties.
With Norway already two players short and a third penalty on delay, France tied the game up with 2:48 left in the period. Marion Allemoz´s shot hit the top of Nilsen´s pad, went up into the air and landed in the net. Following the goal, Norway remained shorthanded for almost the rest of the period, but escaped still tied thanks to Nilsen, who robbed Emmanuelle Passard with a great sliding save on the one-timer.
Early in the second period it was France´s turn to get into penalty trouble. They, too, found themselves two players short, but Norway made them pay for both with two power-play goals. Moving the puck around well on the five-on-three, Caroline Baldin had no chance as Andrea Dalen finished it off by sliding the puck into the unguarded net. 1:18 later, Mathea Fischer scored Norway´s third power-play goal of the game and it was 3-1 at 25:12.
After that, France would try desperately to score, but couldn´t beat Nilsen the rest of the game. They got chances – particularly one sequence late in the second period where Nilsen robbed Allemoz, then Lea Parment on the rebound. France had four power plays in the second and third periods, including the last minute of the game when Ingrid Morset cleared the puck over the glass from her own zone. With Badin on the bench, they had a six-on-four advantage on the ice, but still couldn´t score.
Norway´s victory was secured when Dalen scored her second goal of the game, a shorthanded, empty net goal shot from her own zone that went into the empty net with just four seconds on the clock.
The final shot total was 45-17 for France, but it was Norway who picked up the three points and move into second place. There´s a good chance they will stay there, too, as third-place Denmark plays first-place Czech Republic in the tournament´s last game. Even if the Danes win, though, Norway will still leave Prerov with a medal. The loss means that France leaves without a medal, but for the team that was just promoted from Group B, their performance in Group A this week was admirable.
Reactions
Laura Rollins (Norway):
I think we came out hard, which was the way we wanted. We scored the first goal and then just tried to focus on doing the work, and not what it meant if we won the game. I think it worked. It´s always good to get a medal. Last year we had a disappointing finish on home ice, so it´s nice to come back with a really young team and go home with a medal.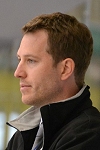 Gregory Tarle (France): I think it was bitter game for France. I don´t think it should have been a three-goal difference, but Norway scored on their power plays and we didn´t. I´m not happy with the final game but it was a good tournament for the French and we are on good way to growing.
Games
Short news
Best players of WWC
12.04.2014
- The Directorate of the 2014 IIHF Women's World Championship has determined the best players of the whole tournament. As the best goalie was named Klara Peslarova from the Czech Republic, as the best defender was awarded Silje Holos from Norway. Her teammate, Andrea Dalen, was named as the best forward.
U-15 game today!
11.04.2014
- The Women's World Championship has a day off, but Meo Aréna in Přerov will still be busy An international exhibition game in the women's U15 category will be played between the
Czech Republic
and
Hungary
. The game starts at 18:15.
Official programs!
09.04.2014
- During the game between the Czech Republic and Norway, a kiosk with official programs will again be on display. You can buy one and get some very interesting tournament information.
New website launched
23.01.2014
- The official website of the IIHF Women´s World Chapmionship Dvision I, Group A has just been launched. The Tournament will take place in Prerov´s ice hockey arena between the 6th – 12th of April, 2014.
Tournament schedule
23.01.2014
- The games schedule was published on the official website of the upcoming Women´s World Championship Division 1, Group A.
Facebook
WCH partners