We still want a medal, says Annika Fazokas - three other teams also want one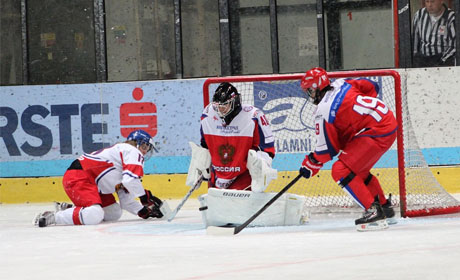 On Thursday both the overall winner of the tournament and the team to be relegated were decided. The Czech victory over Slovakia means that the tournament hosts will return to the championship group in 2015. At the same time, it assures that Team Slovakia will finish with the worst record. But the tournament isn't over. Still to be decided is the order of the teams second through fifth. The last three games of the 2014 IIHF Women's World Championship will be played on Saturday.
Denmark faces first-place Czechs
Yesterday's first game was between by Denmark and France. When Denmark won, they still had a slight chance to take first place. "We hoped that the Czechs would be beaten that day and that we would play with them for first place," said Denis Larsen, head coach of Team Denmark. Reality was different, though. As you have already read, the Czechs won and clinched the title. "The first thing was to survive in this group and that's it, and we'll be very glad if we win a medal," said a satisfied Larsen. Despite that, the Czechs will, as head coach Jiri Vozak said, play to win all games, which means it will be a tough game for Denmark.
Slovakia and Austria - another derby
Austria played yesterday against Norway. The final score was a little bit surprising. The team from Central Europe won 5-2 against a strong team. "After we scored the first goal, we didn't stop playing, so we put on good pressure and were able to score five goals. We fought to the end," said Austrian defender Annika Fazokas just after the game. For the Austrians, it was a very important win, as it put them in a good situation to stay in Division 1A. "Yes, the coaches said that we should stick to the game plan. We should continue even after we get some goals and don't stop playing. It is good that we won, but we expected something better from the Norwegians. Now it's pretty good that we have won and that we can stay in this division," said a happy Fazokas, one of the youngest players in the whole tournament.
After the game, it was still not certain that Austria would avoid relegation. "Yes, the victory was good but we really believed that the Czech Republic would beat Slovakia. We supported them a lot. We are happy," she said. In spite of her age, she gets a lot of ice-time and plays the power play and short-handed situations. "It is pretty good. I'm pretty young and if I get a lot of ice-time, it's simply great," said the captain of the Austrian U18 team. Not only has Austria avoided relegation, but they still have a chance to hang medals around their necks. "We want to win the next game and prepare ourselves well for it, so we'll train hard. We really want to win a medal. It is important for us," concluded Fazokas.
The team headed by Milan Skokan lost to the Czech Republic in an important game. "We did everything we could to win at least one point. If we played in the previous games as well as today, we wouldn't be in the position we are," said a sad Skokan. The Slovakian players don't want to resign and they would like to win at least one game. "We wanted; we wanted a lot but ... the more we wanted, the more that went wrong. We want to win at least the last game to show that we know how to play hockey," said a disappointed Livia Lucova.
Norway and France will play directly for a medal – the team that wins will certainly take one
The team from Norway has good motivation too. This group is playing good hockey and for two games was holding onto first place, but now could finish without a medal. "We expected that it would be one of the hardest games. We did not play how we wanted to play. The Austrians had couple of great rebounds. We lacked a little bit of luck, it sometimes happens in ice hockey," said Norwegian assistant coach Laura Rollins. "We can still win a medal. It's our goal to have one," she added.
In the same position as Norway is France. Because of yesterday's loss, they have to gain three points and hope that the other results will help them out. "We played a good game yesterday but today it was bad. We didn't score on our power plays, so that was what decided the game,", commented Gregory Tarle, the French head coach. "Our target was to stay in this division and we did it. We'll try winning this division next year," he added.
Short news
Best players of WWC
12.04.2014
- The Directorate of the 2014 IIHF Women's World Championship has determined the best players of the whole tournament. As the best goalie was named Klara Peslarova from the Czech Republic, as the best defender was awarded Silje Holos from Norway. Her teammate, Andrea Dalen, was named as the best forward.
U-15 game today!
11.04.2014
- The Women's World Championship has a day off, but Meo Aréna in Pøerov will still be busy An international exhibition game in the women's U15 category will be played between the
Czech Republic
and
Hungary
. The game starts at 18:15.
Official programs!
09.04.2014
- During the game between the Czech Republic and Norway, a kiosk with official programs will again be on display. You can buy one and get some very interesting tournament information.
New website launched
23.01.2014
- The official website of the IIHF Women´s World Chapmionship Dvision I, Group A has just been launched. The Tournament will take place in Prerov´s ice hockey arena between the 6th – 12th of April, 2014.
Tournament schedule
23.01.2014
- The games schedule was published on the official website of the upcoming Women´s World Championship Division 1, Group A.
Facebook
WCH partners